Television
TV News, Show Reviews, Sneak Peeks, What's Worth Watching
Updated: 6 days 2 hours ago
Nancy Clancy has one of the best imaginations on TV.
The new character is part of Disney Junior's new series, Fancy Nancy. It's based on the New York Times bestselling book series, and is sure to bring a smile to young kids' faces and make them believe in the power of their individuality.
First Look: 'Hawaii Five-O' & 'Modern Family' Stars Lend Voices to Disney Junior's 'Fancy Nancy'
Stars from 'Modern Family,' 'Cheers,' 'How I Met Your Mother,' and more lend voices to the new series.
In this exclusive clip from the show, we hear from Alyson Hannigan (How I Met Your Mother), who voices Claire Clancy, Rob Riggle (Modern Family), who plays Doug Clancy, and Nancy Clancy herself — 13-year-old Broadway star Mia Sinclair Jenness.
"Nancy is an amazing, fantastic little girl who finds a way to add a little fancy into an ordinary day using her imagination and being creative," says Sinclair Jenness.
Watch the featurette below for more insights into the show from its cast members:

Fancy Nancy, Series Premiere, Friday, July 13, 11am ET/PT, Disney Junior/DisneyNOW app
The nominations for the 70th Annual Primetime Emmy Awards are officially out, and as with every year, this batch has a mix of snubs, surprises, and expected nods.
Samira Wiley (who nabbed an Outstanding Guest Actress nominee for The Handmaid's Tale) and Ryan Eggold (The Blacklist, New Amsterdam) announced the major categories live this morning. Netflix beat out HBO with the most Emmy nominations, with 112 total to HBO's 108. Leading the pack are Game of Thrones snagged a whopping 22 nods, followed by Westworld and Saturday Night Live, which are tied with 21 each.
Emmys 2018: Stars and Creators React to Their Nominations
Tituss Burgess, Claire Foy, and more are speaking out about their nods.
Also in the mix this year are favorites like The Handmaid's Tale (20 nominations), The Assassination Of Gianni Versace: American Crime Story (18 noms), and Atlanta (18). As for the surprises? HBO's newcomer Barry had a solid showing with three noms, and Roseanne was able to get some recognition thanks to Laurie Metcalf.
Below, find the complete list of nominees in the major categories (a full list of nominees can be found on emmys.com).  Be sure to tune in and find out who wins when the 70th Primetime Emmy Awards ceremony, hosted by Saturday Night Live's Michael Che and Colin Jost, airs Monday, September 17, live on NBC at 8/7c.
Outstanding Lead Actor In A Comedy Series
Donald Glover - Atlanta
Bill Hader - Barry
Anthony Anderson - black-ish
Ted Danson - The Good Place
Larry David - Curb Your Enthusiasm
William H. Macy - Shameless
Outstanding Lead Actress In A Comedy Series
Pamela Adlon - Better Things
Tracee Ellis Ross - black-ish
Issa Rae -Insecure
Allison Janney - Mom
Rachel Brosnahan - The Marvelous Mrs. Maisel
Lily Tomlin - Grace & Frankie
Outstanding Lead Actor In A Drama Series
Matthew Rhys - The Americans
Ed Harris - Westworld
Milo Ventimiglia - This Is Us
Sterling K. Brown - This Is Us
Jeffrey Wright - Westworld
Jason Bateman - Ozark
'This Is Us' Cast & Crew Tease First Scenes of Season 3 From Set (VIDEO)
Plus, see Sterling K. Brown and Susan Kelechi Watson show off their dance moves!
Outstanding Lead Actress In A Drama Series
Keri Russell - The Americans
Claire Foy - The Crown
Elisabeth Moss - The Handmaid's Tale
Sandra Oh - Killing Eve
Tatiana Maslany - Orphan Black
Evan Rachel Wood - Westworld
Outstanding Lead Actor In A Limited Series Or Movie
Darren Criss - The Assassination of Gianni Versace: American Crime Story
Antonio Banderas - Genius: Picasso
Jeff Daniels - The Looming Tower
John Legend - Jesus Christ Superstar Live
Benedict Cumberbatch - Patrick Melrose
Jesse Plemons - Black Mirror: USS Callister
Outstanding Lead Actress In A Limited Series Or Movie
Jessica Biel - The Sinner
Laura Dern - The Tale
Edie Falco - Law & Order True Crime: The Menendez Murders
Michelle Dockery - Godless
Regina King - Seven Seconds
Sarah Paulson - American Horror Story: Cult
Sandra Oh Talks Trading Her 'Grey's' Scrubs in for New Thriller 'Killing Eve'
The actress previews her new BBC America thriller, which debuts Sunday, April 8.
Outstanding Supporting Actor In A Comedy Series
Louie Anderson - Baskets
Brian Tyree Henry - Atlanta
Kenan Thompson - Saturday Night Live
Alec Baldwin - Saturday Night Live
Tituss Burgess - Unbreakable Kimmy Schmidt
Tony Shalhoub - The Marvelous Mrs. Maisel
Henry Winkler - Barry
Outstanding Supporting Actress In A Comedy Series
Zazie Beetz - Atlanta
Alex Borstein - The Marvelous Mrs. Maisel
Leslie Jones - Saturday Night Live
Kate McKinnon - Saturday Night Live
Aidy Bryant - Saturday Night Live
Betty Gilpin - GLOW
Laurie Metcalf - Roseanne
Megan Mullally - Will & Grace
Outstanding Supporting Actor In A Drama Series
Matt Smith - The Crown
Peter Dinklage - Game of Thrones
Nikolaj Coster-Waldau - Game of Thrones
David Harbour - Stranger Things
Joseph Fiennes - The Handmaid's Tale
Mandy Patinkin - Homeland
'The Good Doctor' Cast Talks the Show's Impact on Autistic Community & More
Freddie Highmore, Hill Harper, and the rest of the cast weigh in on their ABC breakout hit.
Outstanding Supporting Actress In A Drama Series
Ann Dowd - The Handmaid's Tale
Lena Headey - Game of Thrones
Millie Bobby Brown - Stranger Things
Yvonne Strahovski -The Handmaid's Tale
Alexis Bledel - The Handmaid's Tale
Thandie Newton - Westworld
Vanessa Kirby - The Crown
Outstanding Supporting Actor In A Limited Series Or Movie
Jeff Daniels - Godless
Brandon Victor Dixon - Jesus Christ Superstar Live
Edgar Ramirez - The Assassination of Gianni Versace: American Crime Story
Finn Wittrock -The Assassination of Gianni Versace: American Crime Story
Ricky Martin - The Assassination of Gianni Versace: American Crime Story
John Leguizamo - Waco
Michael Stuhlbarg - The Looming Tower
Outstanding Supporting Actress In A Limited Series Or Movie
Penelope Cruz - The Assassination of Gianni Versace: American Crime Story
Judith Light - The Assassination of Gianni Versace: American Crime Story
Sara Bareilles - Jesus Christ Superstar Live
Merritt Wever - Godless
Adina Porter - American Horror Story: Cult
Letitia Wright - Black Mirror: Black Museum
'The Americans' Finale: Keri Russell & Matthew Rhys on the End of the Jennings' Story
The actors share their feelings on the conclusion of Elizabeth and Philip's stories and what they think comes next.
Outstanding Comedy Series
Atlanta
Barry
black-ish
GLOW
Curb Your Enthusiasm
The Marvelous Mrs. Maisel
Silicon Valley
Unbreakable Kimmy Schmidt
Outstanding Drama Series
Game of Thrones
The Crown
The Handmaid's Tale
The Americans
Stranger Things
This Is Us
Westworld
Outstanding Limited Series
The Assassination of Gianni Versace: American Crime Story
Godless
The Alienist
Genius: Picasso
Patrick Melrose
'Game of Thrones' Spinoff Starts Filming in October — Find Out the Tentative Title
Plus, find out the tentative title!
Outstanding Television Movie
Black Mirror: USS Callister
Fahrenheit 451
Flint
Paterno
The Tale
Outstanding Variety Talk Series
Full Frontal With Samantha Bee
The Daily Show With Trevor Noah
Jimmy Kimmel Live!
Last Week Tonight With John Oliver
The Late Late Show With James Corden
The Late Show With Stephen Colbert
Outstanding Variety Sketch Series
At Home With Amy Sedaris
Drunk History
I Love You, America with Sarah Silverman
Portlandia
Saturday Night Live
Tracey Ullman's Show
Seth Meyers on Late Night TV Post-Trump, Being 'Honored' by Letterman's Visit
Plus, his star-studded group of 'Brooklyn Nine-Nine' fans and advice for Michael Che and Colin Jost.
Outstanding Reality-Competition Program
The Amazing Race
American Ninja Warrior
Project Runway
RuPaul's Drag Race
Top Chef
The Voice
Outstanding Unstructured Reality Program
Born This Way
Deadliest Catch
Intervention
RuPaul's Drag Race: Untucked
Naked and Afraid
United Shades Of America With W. Kamau Bell
Outstanding Host For A Reality Or Reality-Competition Program
Ellen DeGeneres - Ellen's Game of Games
Jane Lynch - Hollywood Game Night
Heidi Klum & Tim Gunn - Project Runway 
RuPaul - RuPaul's Drag Race 
W. Kamau Bell - United Shades Of America With W. Kamau Bell
Outstanding Animated Program
Baymax Returns
Rick and Morty
Bob's Burgers
The Simpsons
South Park
Were your favorites snubbed? Who deserves to win? Sound off in the comments below!
Not all TV detectives have to be so serious!
Proving that point is WGN America's new series, Carter, starring Jerry O'Connell as a TV detective turned real-life gumshoe! Now that's sure to make for some big laughs, right? And luckily, TV Insider has an exclusive first look at the trailer for the 10-episode series.
Jerry O'Connell Will Host New Talk Show 'Real Men Watch Bravo'
'Real Men Watch Bravo' will feature the actor talking to male celebs who love the network's reality shows.
O'Connell plays the titular Harvey Carter, an actor who gained fame as an on-screen detective for a hit show. After a seriously embarrassing public meltdown, Harvey flees Hollywood for the refuge of his sleepy hometown. But soon enough, he finds himself putting his investigative skills to use as he looks into real murders in the area with his pals Sam Shaw (Sydney Poitier Heartsong, Chicago P.D.) and Dave Leigh (Kristian Bruun, Orphan Black).
If this all sounds funny on paper, just wait until you see the trailer. Watch the full first look below:
Carter comes from the hilarious mind of creator Garry Campbell (MADtv) who developed the project alongside writer John Tinker (Chicago Hope) — hence, the great mix of comedy and drama. The pilot was directed by Scott Smith (The Magicians, Skins). Carter is distributed internationally by Sony Pictures Television.
Carter, Series Premiere, Tuesday, August 7, WGN America
When ABC resurrected The Gong Show last year, audiences knew what to expect: a (lack of) talent show à la Chuck Barris' silly original from the 1970s and '80s.
But comedian Mike Myers has since outed himself as host "Tommy Maitland," and Season 2, Myers says, is "even weirder." Case in point: Thursday, July 12, a man will balance a flaming grill on his chin.
Below is a list of the revival's myriad attractions.
'Gong Show' Host Tommy Maitland: 'The American People Are the Real Star of This Show'
The 72 year-old comedian finds some love stateside after his British invasion
Maitland Himself
"He loves every act and never has to gong anyone," Myers says of his prosthetic-packed alter ego. Why the subterfuge in the first place? "I wanted to have an older English host [Myers is Canadian] with a gregarious charm who would allow people to fly their freak flag, which is what the whole show is about."
Maitland is not without talent himself. Myers, who used to tap-dance with his mom on Saturday Night Live's Mother's Day specials, does "a lot" of the old soft shoe here too.
The Trio of Judges
The panel of comedy pros changes weekly. Thursday, look for Jimmy Kimmel, Will Arnett and Anthony Anderson — but no matter who is wielding the hammer, Myers says, the scores should be generous. "It's tough to go up and do stuff, you know what I mean?" His dream judges: Groucho Marx and Alice Cooper.
Will Arnett: 'The Gong Show' Reboot 'Allows for a Lot of Insanity'
Will Arnett explains how 'The Gong Show' reboot will both honor the original and carve its own niche.
Familiar Themes
If you like unicycles, confetti or watching people eat surprising items, this is the show for you. Also, Myers says, "things are always on fire."
Suspense
Anticipating whether an act will get gonged is edge-of-your-seat stuff. Says the host, "I watch the rehearsals and what I think is going to get a 10 versus what's going to get gonged is never right."
Big Bucks
Someone will walk away with what Myers calls "the princely sum" of $2,000.18. But, he quips, "You have to find an oversize bank for the oversize check."

The Gong Show, Thursdays, 8/7c, ABC
You got your badge, scored a hotel room, have your costume perfected (or your camera prepped to capture others' handiwork) and it's San Diego Comic-Con go-time for your very first time. So now what? We were once Con newbies, too, and know well that your first peek at the crowd — both at the convention center and wandering the festivities around it — can be a mind-blow, so we've assembled a tip sheet to help you feel, act and traverse the grounds like a pro, right from the start.
PLAN AHEAD
Hear this now: Once you leave your hotel room, you will never not be in a crowd. Never, ever. You will jostle and be jostled. During prime hours on the exhibit hall floor, your nose will be pressed into the back of the guy who bought or built his costume in the '90s and hasn't washed it since. So, if you're testy about that sort of thing, begin steeling yourself now … or consider selling your badge to one of the multitude of folks desperate to buy it and head somewhere chill.
Don't drive if you don't have to. Trolleys, crowds, busses and shuttles make the entire area around the convention center a challenge by car. The San Diego Metropolitan Transit System's trolley is a great option, amping up the number of trains and limiting stops during the convention. Get yourself a multi-day pass (it's cheapest), park in Old Town or Mission Valley and glide right up to the Convention Center in a train specially wrapped for the event. If you do need parking, your best bet is to pre-pay and take the pressure off.
San Diego Comic-Con 2018 Schedule: Full List of Television Panels
Your up-to-date SDCC lineup, with shows like 'Star Trek: Discovery,' 'Charmed,' 'Magnum P.I.' and more.
Plot your days carefully. Even the most casual Con-goer will quickly discover there's more to do than time to do it, so check the exhibit hall map early — especially if you're intent on scoring freebies or getting the good stuff in a popular booth, which you'll want to do first thing. Learn the lay of the land in the Convention Center and make good use of your guide to find your personal can't-miss places and panels. Remember, there will always be a sea of people in your path as you make your way from floor to floor and room to room, so even short distances will take time.
Dress the part. This one's not about costumes (although showing up as your favorite character is definitely part of the fun, if you're so inclined). You will be walking way more than you thought and sitting and standing for long periods of time, and the temperature in every room varies. Wear comfortable shoes that can take the weight of your fellow Con-goer and clothing that will get you through blistering heat (or pouring rain) outside and air-conditioning inside.
Bring the Essentials. Pack a portable device charger or two. Outlets are in short supply, so if you do see one open, claim that thing as yours if you have a bit of time to charge so you don't tap your extras out. Pack snacks and water, too. Yes, there are food and beverage kiosks, but the lines can be daunting, the prices aren't cheap and if you're in line for a coveted booth/freebie/autograph/session — or camped out in Hall H (more on that in a minute) — you'll be glad you have sustenance and hydration at the ready. And bring cash. Most sellers have card readers, but Wi-Fi in the entire hall can be iffy, and cash is still the fastest way to get your stuff and go. Bonus: no potential unpleasant surprises when you get that credit card bill.
'Game of Thrones' & More Shows That Won't Be at Comic-Con 2018
'Westworld,' 'Outlander' & more fan favorites will be absent from SDCC this year.
Be smart with your badge. You got one. Lots of people wanted one. Know where yours is at all times — but if you do lose it or have it stolen, you can get another for a small fee at the Attendee Badge Solutions Desk. And you will scan in and scan out of the convention hall every time you come and go. Get good at swiping your badge and make everyone (most of all you) happy.
(UNDER)STAND YOUR GROUNDS
Take advantage of short lines. Bathrooms, booths, snacks, Starbucks. Even if you only kind of want a latte and there's but a handful of people in line, drink up. Because that right there is a miracle.
Cell reception and Wi-Fi access are iffy, courtesy of the crowd. Since you really shouldn't waste your Con time with your face in your phone anyway, take this as a fine excuse to soak in all that's before you and share your photos and thoughts at night. But if you need to Tweet and you need to Tweet now, and the convention center isn't cooperating, try the lobby of a neighboring hotel. Use and follow @Comic_Con and #SDCC2018.
Tom Ellis, David Mazouz, Eliza Taylor & More Join TV Guide Magazine's Fan Favorites Panel at Comic-Con 2018
Plus, a magical queen, a zombie, Superman's grandpa and more are making their way to the stage.
The best costume spotting is in the convention center lobby. Sure, jaw-dropping creatures are everywhere during the Con, but for the best in one-stop shopping for the best in creative Con couture, you can't really beat the lobby, where themed groups are able to pose together, and outsized creatures don't have to navigate the exhibit hall crowds.
Ask before you snap a photo. Yes, it's what most costume-wearers live for — but not all of them and not all the time. A simple "May I take your picture?" allows folks to strike a memorable pose — or ask you for space if they're just trying to eat that $10 hot dog in peace.
About those giant bags on everybody's back: Those big bags are a big deal to some, and a few are more covet-worthy than others. Trust us — it doesn't pay to ask Con officials if you can switch. You can't. And if you land a prized pack, prepare for the herd of hopefuls waiting for you as you exit with it. They'll try everything to get you to trade. Or if you're not fussy, trade and make someone's day.
Remember, ya gotta schlep what you buy. Overloaded backpacks are a potential weapon to the bodies and faces of your fellow Con-goers and hard on your body for you. Plus, you have to get that stuff home somehow. If you're planning to make plenty of purchases, bring a sturdy backpack and items to protect easily smushed takeaways like comic books, artwork, posters and figurines.
Yes, Hall H is mecca for the biggest celebrity sightings. Yes, you will have to do some variation on camping out to get a spot. The convention center's biggest room holds 6,500 people. That enormous cattle chute of people you're looking at under the white canopies to the left of the Convention Center? That's them … eagerly awaiting a spot close enough to see both of Norman Reedus' eyes or Jensen Ackles' nose hairs or what have you. Getting into a mega-panel requires large amounts of time, patience staying power, so pick one major event per day, commit to it and just forget about what else you might be missing. Ballroom 20 is next biggest. It's upstairs and also home to many TV and film-related panels.
Comic-Con doesn't clear rooms after each panel. This is big — and a double-edged sword. Once you're in a room, you're in — that includes the coveted Hall H — so if you score a great seat and love every panel crossing the room's stage that day, hurray for Con paradise. But people have to leave for other people to get in. So, if you're bouncing around and always end up at the back of the room, that's likely why.
A 'Buffy' Scavenger Hunt & More Interactive Experiences at Comic-Con 2018
'Legion,' 'Wynonna Earp' and more are also getting in on the fun.
Be considerate. ADA seats are for folks with physical disabilities and their helpers only. Press seats are for reporters only. Save more than a couple seats for more than a couple minutes at your peril, especially if you're toward the front. And don't get into it with the guy or girl who wants to argue you out of them if you know your pals are truly on their way. Let them get tossed — not you.
Make your question count. If you score a spot in the Q&A line, earn your fan cred and ask a thoughtful, creative question. The talent will love you, your fellow audience members will love you and you'll leave feeling like a rock star.
Good stuff happens everywhere. Networks and studios set up fun stuff for you to see and do across the street, behind the convention center and at nearby hotels and eateries, so if the main deal feels a bit too crowded, head out and see what else awaits.
"I'm interested in who people are when everything is taken away, whether by zombies or aliens," says Sarah Wayne Callies, referring to two of her favorite projects, AMC's The Walking Dead and, now, USA's Colony.
That preference for "really extreme" stories has certainly been satisfied: The alien-occupation drama has stripped her character, Katie Bowman, and husband Will (Josh Holloway) of refuge, hope—and a son (Jacob Buster).
Below, Callies digs into the recovery process with us.
'Colony' Season 3 Premiere: Josh Holloway Offers a Peek Into the Future
Plus, will we finally see what the aliens look like?
Congratulations on directing the June 26 episode. That was a good one with a violent confrontation between Will (Josh Holloway) and the sneaky collaborator Snyder (Peter Jacobson). Was it your first time directing? How did your buddies feel about your bossing them around?
It was my first time! First off, I never worked with a good director who believes that bossing people around works. [Laughs] But it was interesting timing, because just as I began prepping for directing, Harvey Weinstein and the #MeToo movement exploded. So many of us in the business have experienced these awful things, and we discovered that we weren't alone, but to our horror it was pervasive.
In a counterbalance to that narrative, I'm grateful that I got the opportunity to direct by a bunch of straight, rich, powerful white guys. And they had my back. That was a bit of an antidote. There was something healing in that. Josh Holloway [who's also an executive producer] not only signed off on it, but went to bat for me at the executive level. And [executive producers] Ryan Condal and Carlton Cuse were not only supportive but had a step-by-step action plan. Now that we've wrapped Season 3, I just stepped out of the editing room on my second directing segment. Colony opened some tremendous doors for me. I'm directing an episode of the upcoming miniseries Unspeakable for the Sundance Channel about the spread of AIDS through the blood system back in the '80s and '90s.
Katie once helped lead the resistance against the alien Hosts. Now she works for the Seattle authorities. Why?
Sarah Wayne Callies: Her goal is to build the safest life possible for her surviving kids [Isabella Crovetti and Alex Neustaedter]. Her story explores how during occupations historically, the majority of people don't resist or collaborate. Is non-action complicity? That's the way the audience seems to feel.
When it came to all those children being separated from their parents at the border, a lot of people who'd been pretty quiet about things political finally said, 'No  way, I'm sorry. Who cares who you voted for, don't put children in cages.' When does your silence become tacit support for whatever an occupation or administration  is doing? That's what we're exploring with Katie right now.
Is the role as tough physically and emotionally as it looks?
Absolutely.
What was the most difficult scene episode or arc?
Episodes 5 and 6 this season were incredibly hard. First, because we shot them mostly outside in the mountains outside Vancouver and it was getting very cold and very dark. And then obviously layering on the loss of one child, Charlie, with the potential death of another, Gracie, from a septic infective was really difficult. When Josh and I finished those two episodes, we went out for a cocktail and just sort of looked at each other and thought,  'Well, thank God, that's over.'
Did playing Lori Grimes on The Walking Dead prepare you for this role, with the action and dystopia and her sacrifice for her new baby?
Lori didn't prepare me for this. They're hugely different women in terms of who they are and what they want, but I am definitely drawn to stories that are really extreme, like these shows. In a way they are photo-negatives of each. Walking Dead is an apocalypse which is chaos and Colony is about an alien occupations that is  hyper-organized.  I'm really interested in who are as people when everything we thought we knew about ourselves is taken away. I've worked in refugee camps with the International Rescue Committee and what you often find is that we are not the people that we thought we were when we were safe and warm and well-fed. We can become something very different when all of that goes away, whether that's aliens or zombies. Or geopolitical stuff.
Flashback Fever: Who Else Might Return to 'The Walking Dead' Season 9?
Rick's old pal Shane (Jon Bernthal) will return to haunt him in flashbacks — could any other ghosts from his past materialize?
Katie's old resistance comrade Broussard (Tory Kittles) is back. Why is their connection so deep?
It's the bond between people who were in battle together. I met with veterans of the Iraq War when I did [National Geographic's] The Long Road Home, and their love and devotion to one another is impossible to overstate. It was a huge betrayal [in the July 4 episode] when Katie learned Broussard reached out to Will first for [a covert] operation.
Meanwhile, another dangerous alien force is getting closer. Can the humans possibly win?
The question will become whether an alliance with one side could spare humanity. The [alien-collaborating] IGA believe the Hosts are our best protection. By season's end, we'll have the answer.
Fox has talked about bringing back Prison Break in some kind of iteration. Have you heard anything more about it? Are you interested?
The last thing I heard was at the network Upfront in the spring. 'We're basically cancelling everything on the network, but we're still talking about Prison Break.' I know that  Paul Scheuring  is writing and working on pitching things. Paul is brilliant and it's a show I have a tremendous affection for. If they come up with something they think is worth doing, it would very much surprise me, if I didn't agree. It's just a matter if is there another chapter in this story.
It sounds as if there's another chapter left in Colony.
I certainly hope so. I love this show with my whole heart. I'm so proud to be talking about things like fascism and resistance right now. To be making entertainment about something this relevant is a huge gift.
Good sci-fi has always had the freedom to tackle difficult real life political issues in an entertaining way, hasn't it?
Absolutely. Science fiction has always allowed us to explore issues that feel too dangerous to explore any other way. As I said, it's a gift.
Colony, Wednesdays, 10/9c, USA
There's (literal) trouble in paradise for Young & Hungry's Sofia (Aimee Carrero) and Gabi (Emily Osment) this week, when one of them falls for a man in Mexico.
In the upcoming episodes "Young & Mexico" Parts 1 and 2, the girls end up south of the border when Gabi tries to come up with a last-minute birthday gift for Sofia — a vacation.
'Young & Hungry' Creator David Holden Dishes on Final Episodes of the Comedy
Find out what's on the menu for the last 10 episodes of the series and if a movie is still in the works.
During their vacation, Sofia falls for Juan Carlos (Jose Moreno Brooks) but ends up in quite a predicament when she tries to bring him home!
Sofia then recruits the help of an immigration lawyer who isn't so willing to lend his services. But it's not because he doesn't like Sofia — it's actually quite the opposite, as he waits out her infatuation with Juan Carlos to pursue her himself.
What will happen when this love-triangle comes to life on-screen? Check out the exclusive featurette below, and make sure to catch the episodes when they air on Freeform.
Young & Hungry, Wednesdays, 8/7c, Freeform
Suits has undergone some considerable alterations for Season 8.
With original cast members Patrick J. Adams and new royal bride Meghan Markle gone (their newlywed characters left New York for Seattle in the Season 7 finale), the stylish legal drama welcomes Grey's Anatomy alum Katherine Heigl as ballsy, abrasive partner Samantha Wheeler, who butts heads with Specter Litt's finest, including star litigator Harvey Specter (Gabriel Macht).
"She tells everybody a different story about her past, so you don't know what the truth is," explains Heigl. "I love that she's an enigma. No one can figure her out."
On the Toronto set, the Emmy-winning actress debriefs us a bit more.
WATCH: First 'Suits' Season 8 Trailer Featuring Katherine Heigl
There's a new woman in town, and she doesn't like nicknames.
I hear you were a Suits superfan before you joined the cast.
Katherine Heigl: Oh, yeah. My mother, Nancy, is my producing partner, and she and I talk about it a lot. She was like, 'You've gotta check out this show!' My husband [musician Josh Kelley] and I binged the first five seasons, and I was obsessed.
So my mom suggested reaching out to Aaron [Korsh, Suits' creator] to see if he'd want to help develop some show ideas we had. At that time, we didn't know that there was going to be a Season 8 of Suits.
This was after the news that Meghan Markle and Patrick J. Adams were leaving?
Right. I thought [the series] might be wrapping up and Aaron admitted on our call that they were doing an eighth season. I was like, 'Oh? Do you need another character? Because I'm available!' I felt nervous asking, because they might be like, 'Hell no, I don't want you on my show.' But he said, 'Are you serious? You would do it?' And I said, 'Are you serious? You'd have me?' And here I am.
When we first meet Samantha, she's kicking ass in a boxing ring. What's beneath her tough exterior?
I can't tell you. [Laughs] She has a past that's very different than you'd think. She doesn't come from where you expect.
How would you describe the tense dynamic between Samantha and Harvey?
It's still fishy. One minute, they're on the same team, the next he's like, 'She's a hot button; I don't know how to handle her.' Harvey wants 100 percent, full-blown loyalty and he's not getting it from her. Samantha doesn't feel like it's her job to be loyal to him or protect him.
Katherine Heigl Posts First Pic as New 'Suits' Character
'My character is no shrinking violet!' she wrote on her social media.
Has she developed any relationships that aren't…
Confrontational?
Yes.
Not yet. [Laughs] She's getting there. One of my favorite things about Suits is its heart — these characters are sort of who you wish you were. They can be brash and say the wrong thing, then turn around and go, 'I was wrong, I'm sorry.' I've had a couple of scenes where Sam has done that and I love that about her. It makes her that much more powerful and strong.
Where do you see Samantha fitting in among your past TV roles?
Izzie on Grey's was young but knew what she wanted. She just didn't know how to get it and was insecure. On State of Affairs, my character was the first fierce, in-charge professional I played [Heigl was CIA analyst Charleston Tucker on the 2014–15 NBC drama]. She was the boss, but she didn't have much of a sense of humor.
On [2017 drama] Doubt — which I did with Dulé Hill [who portrays Suits' Alex Williams] — I played a lawyer. Really smart, really powerful, no sense of humor. Sam's a combo of all of them: a woman who was insecure in her twenties and learned from that how to claw her way to the top. And stay there.
What have you learned from playing these women?
It's more about what I've learned from life, you know? I'm 39 now and that means none of the past s**t that used to happen can happen anymore, because I've earned the right to draw boundaries and to be fierce or to speak my mind. I don't know why it took me that long to feel like I've earned it!
Suits, Season Premiere, Wednesday, July 18, 9/8c, USA
On July 11, Kevin Hart brings his unstoppable energy to television, where he'll host CBS' competition series TKO: Total Knock Out.
In each episode of TKO, five players from all walks of life take on the show's massive indoor obstacle course containing elements that executive producer Mark Burnett explains range from "crossing rickety, unstable bridges to running and leaping across moving platforms, and it's all while your competitors are trying to slow you down by knocking you off the course with huge projectiles."
Kevin Hart on Game Show 'TKO: Total Knock Out': 'You're Going to Laugh a Lot'
The new game show, hosted by the actor-comedian, premieres on CBS on July 11.
So in a case of "us versus them," while one player attempts the challenging course, the others fire projectiles from the course's four menacingly named battle stations.
"It's an obstacle course meets dodgeball," says Burnett. "It's athletic, comedic and 100 percent fun."
Obstacle courses have enjoyed a massive surge in popularity, thanks to races like Spartan Race and Tough Mudder and TV series like Ultimate Beastmaster and American Ninja Warrior.
Mark Burnett and Mike Darnell to Produce CBS Global Talent Competition 'The World's Best'
Burnett describes the show as 'like the Olympics for entertainment.'
It was only a matter of time before Burnett turned his producing prowess to the trend, because no one knows obstacle courses better than he does. Burnett started his TV career by producing the international Eco Challenge series before introducing his global hit Survivor with its legendary obstacle course infusion.
Survivor fans will probably find themselves wondering if they've seen some of the obstacles on prior seasons of CBS' flagship reality series, or wonder if Burnett might recycle challenges for use in the upcoming season, Survivor: David vs. Goliath, which premieres Sept. 26.
Although it's unlikely that Survivor would borrow the aesthetics from TKO's indoor arena, it would add an interesting twist if contestants in Season 37 were allowed to sabotage each other as they raced through obstacles…
And while we're talking about programming ideas that probably won't happen, but would be awesome if they did — we'd love to see Hart take on the obstacle course himself.
Hart claims that that TKO's contestants "do not have to be a five-star athlete to win," and we'd love to see the pint-sized powerhouse and fitness give it a go. His vibrant personality shines, and his enthusiasm is contagious as host, and he could definitely add some interesting commentary as he takes on obstacles including "The Frisboom" and "The Slammer."
TKO's indoor course offers the audience not only an up-close look at the race's action, but also a front-row seat for Hart's excited antics.
"Kevin is a shining global beacon of comedy, of fitness and of fun," says Burnett. "He is the perfect star for TKO, and I'm so grateful we get to work together on primetime CBS."
TKO: Total Knock Out, Wednesdays beginning July 11, 9/8c, CBS
A critical checklist of notable Wednesday TV:
The Handmaid's Tale (streaming on Hulu): A grueling second season of the searing allegory ends with enough powerful and satisfying twists to keep fans buzzing until Season 3 arrives next year. It's another powerful showcase for Elisabeth Moss as Offred/June, who can barely mask her rage and contempt after last week's public execution, and also for Yvonne Strahovski, who has been tremendous all season as Offred's conflicted mistress, Serena. Her rekindled feelings about women's subservient place in even the highest strata of Gilead society come to a head in another showdown with her husband, Commander Fred (Joseph Fiennes). In another household, Emily (Alexis Bledel) is in for a surprise—and so are viewers—as she prepares for her first "ceremony" with her mysterious master (Bradley Whitford, typically terrific). A suspenseful climax sets up powerful new dynamics for whatever comes next.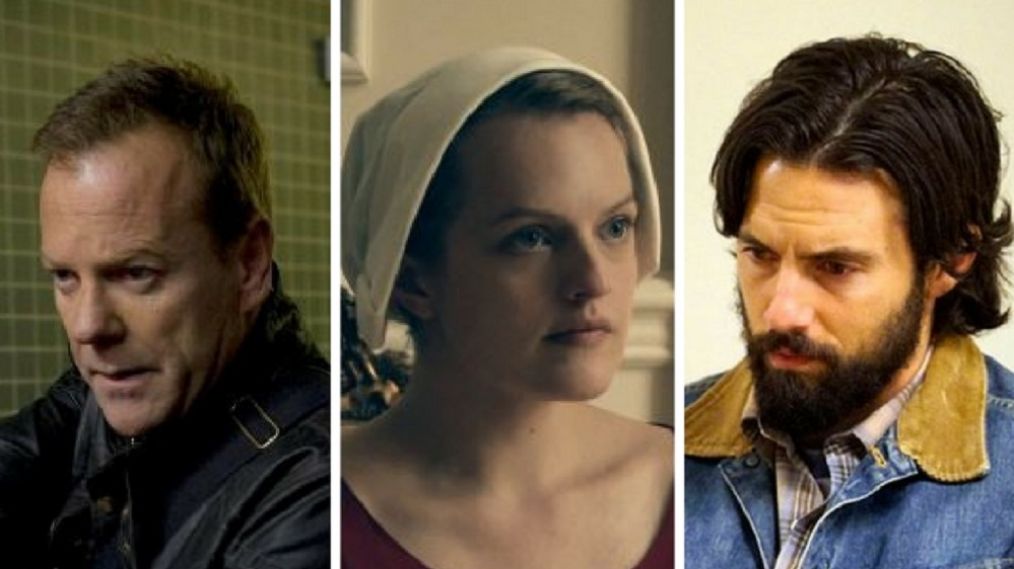 Best Pilot Episodes of the 21st Century: 'The Handmaid's Tale,' '24' & More
Plus, 'Friday Night Lights,' 'Modern Family,' and other classics.
TKO: Total Knock Out (9/8c, CBS): A reminder that in most regards, especially on the broadcast networks, summer is the silly season, which explains this knockoff of Wipeout featuring Kevin Hart as the good-natured host for a new slapstick competition. Each week, five contestants vie for the fastest time on an elaborate obstacle course during which opponents fire projectiles at the runner in hopes of knocking and slowing them down. A $50,000 prize awaits the winner. An hour of harmless fluff awaits the viewer.
Kevin Hart on Game Show 'TKO: Total Knock Out': 'You're Going to Laugh a Lot'
The new game show, hosted by the actor-comedian, premieres on CBS on July 11.
Bobcat Goldthwait's Misfits & Monsters (10/9c, truTV): Horror and humor are compatible bedfellows in a cheerfully cheesy anthology from former stand-up provocateur (turned writer/director) Goldthwait. Like Tales From the Crypt with a more satirical bent, these cautionary tales are populated with actors better known for comedy—including, in the opener, Seth Green. "Bubba the Bear" features Who Framed Roger Rabbit-style live action and animation to fun (and gruesome) effect in the story of a voice actor driven looney-tunes by the sinister manifestation of his goofy redneck cartoon character. It might make you scream—with laughter.
First Look: 'Bobcat Goldthwait's Misfits & Monsters' Lines Up the Talent (VIDEO)
Melissa Joan Hart, Seth Green, and more get gory and goofy for truTV's new anthology.
Inside Wednesday TV: As The Handmaid's Tale signs off, Hulu returns bawdy period piece Harlots for a second season, with back-to-back episodes. The rivalry between brothel madams Margaret (Samantha Morton) and Lydia (Lesley Manville) intensifies when a stern new Justice makes an arrest. … Classic rock fans will want to check out the premiere of AXS TV's The Ronnie Wood Show (8/7c), in which the Rolling Stones guitarist jams and jaws with Beatles icon Paul McCartney in the U.S. debut of Wood's radio show. … PBS's three-part Kingdoms of the Sky, from BBC's Natural History Unit, is a visual treat as it depicts the wildlife and people who cohabitate on the Earth's most iconic mountain ranges. First up: "The Rockies" (9/8c, check local listings at pbs.org), where skiers and daredevil wingsuit flyers play while bighorn sheep, mountain lions and other species just try to survive. … TLC's Dr. Pimple Popper (10/9c) belies its silly title with compelling accounts of dermatologist and YouTube star Dr. Sandra Lee, as she helps patients with extreme dermatological problems regain their confidence and even sometimes their mobility.
What's Coming and Going From Hulu in July 2018
The 'Castle Rock' premiere, a 'Casual' return, and more titles are coming this month.
Pages